Muneer O. Awad, Trial Attorney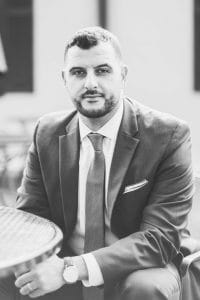 Muneer Awad started his legal career in Oklahoma where he answered his life's calling to defend the people, and fight the State. He successfully filed a lawsuit there to block the implementation of a constitutional amendment that would have discriminated against people of faith, jeopardized the rights of parents and their adopted children, and nullified all international business contracts.
After his success in Oklahoma, Muneer worked in New York, NY and Augusta, GA where he fought against abusive policing and prosecutions, and defended people trapped in the criminal court system. He has an impressive track record defending against serious felonies including murder, rape, and child molestations. He also had the benefit of working at the Public Defenders Office where he handled every type of criminal case at every phase of the criminal court process.
Muneer has worked throughout the State of Georgia and is honored to call Marietta his hometown, and the city where he received his greatest honor—Marietta High School Coaches' Award for Offensive Player of the Year in 2001. However, Muneer will be the first person to tell you that the relationships he has built with other attorneys or judges comes second to the relationship he builds with his clients. Despite numerous awards and recognitions for his courage in taking the fight to the State, his greatest award is the satisfaction of his clients.
Abed Awad, Trial Consultant
Abed serves a unique role as a trial consultant for the Awad Legal Team. He helps our lawyer investigate cases, find and interview witnesses, review and develop theories of defense and client narratives, and most importantly he supports and compliments his brother, and our trial attorney Muneer Awad, as we fight for our clients. Other law firms or law offices may offer support staff, secretaries and intake specialists for their attorneys, but the Awad Legal Team includes a unit that has grown together, worked together, and fought together for over 30 years.
Abed was born in Ponce, Puerto Rico, but grew up with his brother in Marietta, GA where he attended Marietta High School, Southern Polytechnic Institute and the Georgia Institute of Technology. He has extensive experience working in the real world where he has managed and developed successful small businesses in the metro-Atlanta area and worked in New York City with the Founder Institute and other start-up CEO's in launching websites and mobile apps.
Abed is thrilled to join the Awad Legal Team and excited to continue to do what he and his brother have been doing since their early days on the neighborhood playground–winning.
James C. Walker, Of Counsel
James C. Walker is affectionately known as "Jimmy" to his friends and family in South Georgia and Augusta. He has practiced law for over 20 years in the areas of personal injury, insurance liability, family law, criminal defense, and appeals. Jimmy was one of the first lawyers to serve as a public defender in the Augusta Judicial Circuit, and was proudly serving and representing clients who could not afford an attorney long before the Indigent Defense Act of 2003. In that position he represented thousands of clients facing charges ranging from misdemeanor theft and drug charges, to sex crimes and serious violent felonies.
Jimmy's ability to connect with his clients and with jurors has made him a local favorite in the Augusta Judicial Circuit. When he isn't representing his clients in court, he can be found in the community driving his English Bulldog to the pond to go fishing, or at local events volunteering as a balloon artist for the kids.
The Awad Legal Team is fortunate to have Jimmy serve in an Of Counsel-position to help us on cases in the Augusta Judicial Circuit and to help us on complex cases across the State of Georgia. Muneer and Jimmy have been trial partners many times during their career and they look forward to representing more clients for the Awad Legal Team.
Of counsel is an attorney that is not a member of our staff and is not a partner at our firm, but has a very close working relationship with the Awad Legal Team.